Share this infographic on your site!
Maximize Your Money With A Growth Mindset
More than 3 in 4 Americans have at least one financial regret
Money Troubles
More than half of Americans regret not saving more

Of those, most regret underfunding

Retirement accounts: 48%
Emergency fund: 34%
Education for child: 18%

In 2020, Americans owed $14.15 trillion in total household debt

$1.64 trillion in student loans — That's $29,900 per graduate
$1 trillion in credit card debt — An all-time high
23% added to their credit card debt during the pandemic
Financial Mistakes Are Costly

33% of Americans are living paycheck to paycheck

Less than 3 in 10 low-income earners* are able to save (*making less than $25,000/year)

42% of student borrowers made a late payment at least once in the past year

47% wish they had chosen a less expensive college

46% of credit card holders don't always pay in full

35% make minimum payments
Less than 1 in 3 Americans understand at least 3 basic financial concepts by age 40
60% understand borrowing
Just 35% understand risk
BUT that doesn't mean it's too late to learn
Build A Growth Mindset About Money
What Is A Growth Mindset?
Your mindset is built on whether you see your own character, intelligence, and abilities as fixed or capable of growth
Fixed Mindset

Desires to look smart or skilled compared to others
Avoids challenges and failure, gives up easily
Ignores useful negative feedback
Feels threatened by the success of others

Growth Mindset

Desires to learn and improved compared to self
Embraces challenges and see setbacks as opportunities
Learns from constructive criticism
Learns and finds inspiration in others' success

Grow Your Financial Literacy
53% of Americans feel anxious thinking about money — For young adults* it's 63% (*age 18-34)
Those with higher financial literacy are more likely to

Invest wisely
Manage debt well
Plan for retirement
Overcome financial shocks
73% of people feel confident about their ability to achieve their financial goals — You can too
Recovering From Financial Mistakes
Overcome The Stigma

Simply talking about finances can help you learn

Students who talk to their parents about finances at least once a month have better financial literacy scores

44% of Americans would rather discuss death, religion, or politics than personal finance

What's stopping you from talking about money?

Embarrassment
Fear of conflict
Social expectations

Address Your Debt

Know Your Debt

Start with a list of all outstanding debts
Include payment term and interest rates
Not sure where to start? Check your credit report for current debts and studentaid.gov for federal student loans
Consider Your Options

Contact each lender to ask about repayment options
Consider debt consolidation or refinancing as well
Beware of companies making exaggerated claims — some could lead to paying more interest in the long run
Choose A Strategy

Snowball Method: Pay off the smallest debt first to gain confidence
Avalanche Method: Pay off highest interest rate first for greatest savings
Whichever method you choose, always pay at least the minimum for all loans
39% use websites or apps to help with financial tasks
Create A Budget & Start Saving:

Develop and follow a budget to better manage your spending

Mint combines budgeting, credit monitoring, and account tracking to help you take control of your finances
YNAB offers mobile and desktop apps for its own approach to budgeting, based on giving every dollar a job
Simple offers fee-free round-up savings, savings goals, and envelope-style budgeting for account holders

Start saving with the help of apps and chatbots

Trim finds forgotten subscriptions and negotiates rates with service providers and credit agencies
Cleo tracks your spending habits, quizzing your financial knowledge, and roasts users for overspending
Earnin helps you celebrate your successes by depositing into a virtual "tip jar"

Pay Down Debt & Improve Your Credit

After an emergency fund, good credit is your best defense against unexpected expenses
You can improve your credit score in just 12 to 18 months

Monitor your credit report for errors
Paying all bills on time
Increasing available, unused credit

CreditWise helps monitor your credit score with weekly updates and lets you simulate how actions would affect your score
Unbury.me helps calculate your loans, payment options, and calculate when each debt will be paid off

Start Investing In Your Future

Round-Up Investments: Acorns, Stash, Clink

Pro: Automatically rounds up each transaction and invests the difference — Simply and easy for beginners
Con: Fees have a big impact on small investments — Even $1/month fee can equal 5% of your total investment

Robo-Advisors: Wealthfront, Betterment

Pro: Easy automated investment with low fees and low minimum investments
Con: Require larger initial investment and may be more expensive than some funds

Financial Advisors: Don't be afraid to seek expert advice — Risk and investments are among the least understood financial concepts
Change your mindset. Change your finances. Change your life.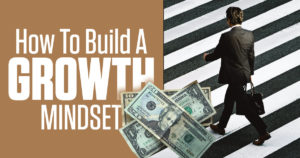 Sources:
https://www.bankrate.com/banking/savings/financial-security-may-2019/
https://www.reuters.com/article/us-usa-fed-household-debt/u-s-household-debt-tops-14-trillion-and-reaches-new-record-idUSKBN20521Z
https://studentloanhero.com/student-loan-debt-statistics/
https://www.npr.org/2020/02/13/805760560/u-s-credit-card-debt-hits-all-time-high-and-overdue-payments-rise-for-young-peop
https://www.creditcards.com/credit-card-news/coronavirus-spring-debt-poll/
https://www.gobankingrates.com/saving-money/savings-advice/americans-have-less-than-1000-in-savings/
http://www.usfinancialcapability.org/downloads/NFCS_2018_Report_Natl_Findings.pdf
https://gflec.org/wp-content/uploads/2018/11/Fact-Sheet_US-Parents_Final.pdf?x37292
https://www.brainpickings.org/2014/01/29/carol-dweck-mindset/
https://www.cnbc.com/2019/04/30/the-us-is-in-a-financial-literacy-crisis-advisors-can-fix-the-problem.html
https://www.cnbc.com/2019/10/29/this-financial-mistake-takes-americans-nearly-20-years-to-recover-from.html
https://www.thebalance.com/best-budgeting-apps-4159414
https://www.nerdwallet.com/blog/banking/best-money-saving-apps/
https://robots.net/it/cleo-the-ai-chatbot-that-can-handle-your-personal-wealth/
https://studentloanhero.com/featured/how-to-improve-your-credit-score-surprisingly-simple-ways/
https://wallethub.com/edu/cs/how-long-does-it-take-to-improve-credit-score/42894/
https://www.lendup.com/articles/7-credit-monitoring-apps-to-help-you-stay-on-top-of-your-credit-score
https://studentloanhero.com/featured/awesome-debt-payoff-mobile-apps/
https://www.moneyunder30.com/spare-change-investment-apps